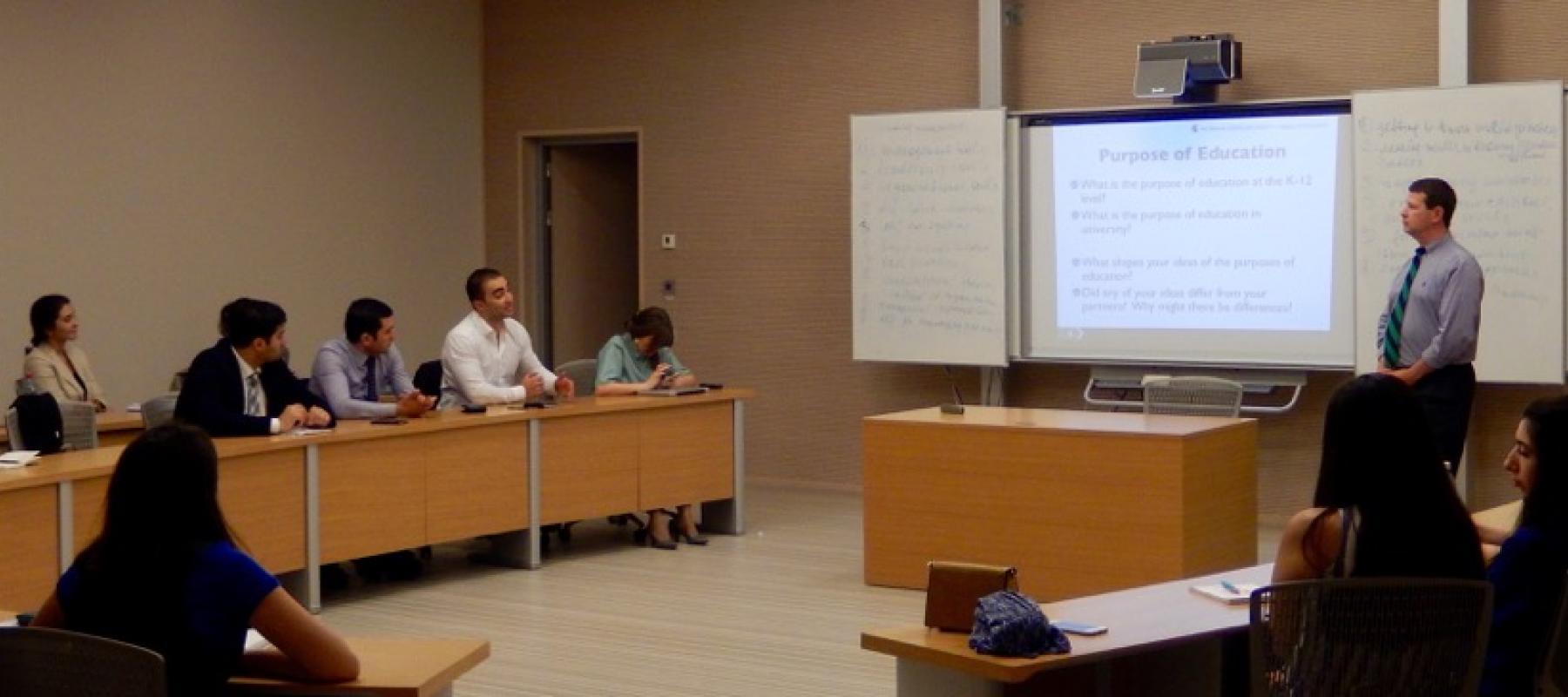 stories
Building Capacity in New Education Graduate Program in Azerbaijan
In September 2016, a CHAE faculty member and doctoral student joined other MSU College of Education colleagues to travel to Baku, Azerbaijan and celebrate the launch of a new Master of Arts in Educational Management program at ADA University.
As part of a multi-year partnership between the MSU College of Education and ADA University in Azerbaijan, MSU faculty and Ph.D. students have been working with ADA colleagues to help create a new School of Education and Master of Arts in Educational Management (MAEM) program at the Azerbaijani institution.
Since 2015, CHAE faculty member Matthew Wawrzynski, K-12 Educational Administration faculty Susan Printy and BetsAnn Smith, and doctoral students Yan Liu (K-12 Educational Administration) and Nate Cradit (Higher, Adult, and Lifelong Education) have collaborated with those at ADA University to help build capacity in the growing School of Education. Their work has included helping to define a mission and goals for the new MAEM program, developing the curriculum, recruiting and hiring faculty, and designing a student experience that is both educationally effective and tailored to the Azerbaijani culture.
The new MAEM program launched on September 16, 2016, welcoming 28 students into the inaugural class. Members of the MSU team were in Baku (the home of ADA University and the nation's capital) as the program began. This trip allowed them to join the opening celebration, meet with colleagues from the institution and the Azerbaijan Ministry of Education, and to deliver guest lectures and course facilitation during the first week of the term. The trip also gave the MSU team an opportunity to visit the modern, four-year-old ADA University campus, and to experience the culture, historical sites, and local setting to inform future work as the partnership continues in the years ahead.
MSU College of Education Dean Robert E. Floden discusses the partnership and program opening:
https://www.youtube.com/watch?v=RW4HVvpQues&feature=youtu.be